In the summer of 1978 Bethel was continuing to grow. John Davies and his family were well and truly settled, and he was looking forward to continuing his ministry for many years ahead. So when he was approached by Peniel Church in Maesteg to ask whether he might be available to them, he said "No".
But as he and the elders prayed about his future over his summer holidays, it became clear to him that the answer he had given was not God's answer. By the end of September, and to his great surprise, he realised that his work in Clydach was done, and that the Lord was indeed calling him to Maesteg. He began his work there on 1st April 1979, exactly eight years after the establishing of the independent church in Clydach.
1 Corinthians 3:6 says "I [Paul] planted, Apollos watered, but God gave the increase." The 1960s and 70s had been times of planting: a new building, a new constitution, new converts, new ministers of the gospel. In God's providence, the 1980s and 90s would be times of watering: nurturing and feeding the flock. In every decade, Bethel's faithful God gave the increase.
The man whom God had called to do the watering was Rev. John Mainwaring. John was originally from Gorslas in Carmarthenshire, and was called to the ministry from his job as a school teacher, and was ordained into the ministry at Bethel on 6th September 1980. John, with his wife, Elizabeth (both pictured below), served the church for 20 years until his retirement in 2000, and is the church's longest serving minister.
These years were characterised by the discipling of the saints, in particular those who have been converted in the 70s. Many of the young people who had been converted during that time met in the manse each Sunday evening for fellowship and teaching.
Others were added to the church, with God demonstrating that He has many ways to reach the lost. Matthew Humphreys was converted as a boy. The change in him was so apparent to his family that mother Marlene, father Brian, and brother Lawrence were all later converted and baptised. Brian now serves as a deacon in the church, whilst Lawrence is an organist and Sunday School teacher.
Val Hughes started attending after receiving a leaflet through her door, and began regularly attending the prayer meeting, until she too found the grace of God and forgiveness of sins. She is now a children's worker in the church.
Keith Chapman found himself coming into Bethel one Sunday and was shocked to discover that according to God's standards he was a sinner. In time, he asked for forgiveness, and had peace in his life for the first time. He too serves as a deacon.
A highlight for many during the 1990s was the annual historical trip. On the last Saturday of July each year, the church would visit a site that had been touched by revival, or was of historical importance — often one associated with the Calvinistic Methodists — and Rev. Mainwaring would give a talk about the history, drawing out spiritual lessons for today. The church would then enjoy a meal together.
The church building itself began to prove inadequate, and in 1989 extensions were added on each side to accommodate everyone. The church met temporarily in the Red Cross Hall during the rebuilding work. The weekly prayer meetings held in the building were also blessed times of refreshment. As the decades wore on, the children and young people of the 70s grew into spiritual, mature adults. Despite the 'loss' of key young leaders who went to minister at other churches, and other young Christians who had moved away to find work, God blessed Bethel with more souls. As some other churches struggled and closed, or others continued the slide into liberalism, Christians from those churches found Bethel a haven where the truth was preached and the gospel loved.
Like any church in any decade, there were difficulties and struggles too. But the overwhelming memory from that period, is a tangible sense of the goodness of God.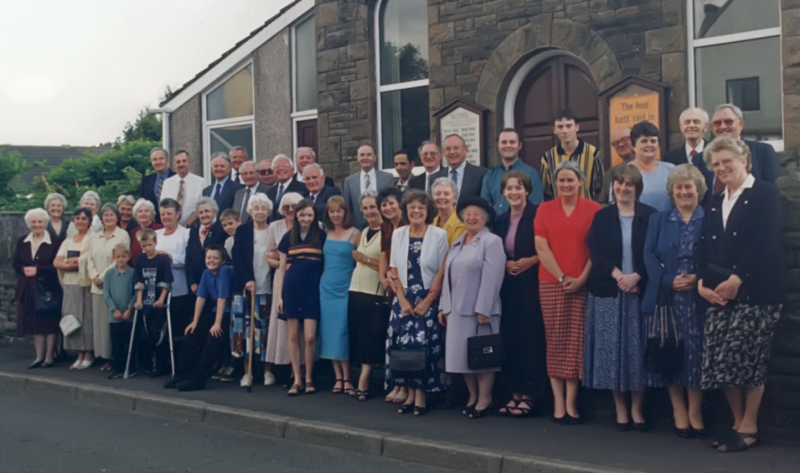 In July 2000, Rev. Mainwaring retired. When he had given his response to the call at his induction service 20 years earlier, he had concluded his message with these words:
Unworthy as I am for the task ahead, I know that my God shall supply all my need according to His riches in glory by Christ Jesus.
In those twenty years, neither Rev. Mainwaring nor the church found their God wanting. Following his retirement, John and Elizabeth moved away to Carmarthen, and back to the rural Wales they loved so much. But after only a little time away, they found they missed the people of Clydach even more then they had missed the Welsh countryside. So John did what few ministers ever do — he went back to the church he had pastored for 20 years, and it felt like he was going home. John and Elizabeth are both still members of the church, and John frequently preaches — often in Welsh — in many of the local churches.
Whilst he had been away, the church struggled to find a minister who could come and serve in the church. But they also realised that the building they were worshipping in required significant maintenance and may not be suitable for too much longer. Money was put aside, and the vacant manse sold. By this time Nigel Clifford had retired from pastoring Emmanuel Church in Cardiff, to become an itinerant preacher and house-builder. He drew up plans to demolish the building and erect a two-storey, purpose-built structure in its place. In October 2005, the church moved into a temporary rented accommodation — the Community Hall on Vardre Road. The new building (below) was completed in September 2006, without incurring any debt.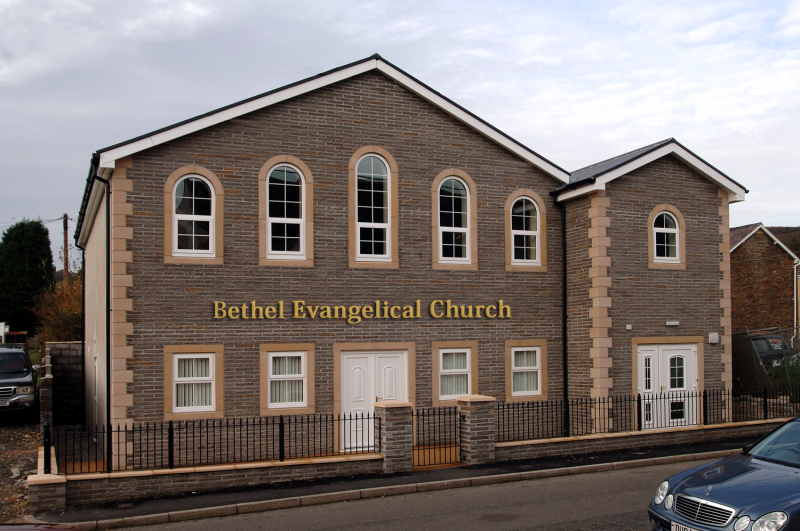 By this time the church had been without a minister for seven years, though several retired ministers had settled in the congregation! As well as John Mainwaring and Nigel Clifford, Peter Clement, Paul Clement, Andrew Davies and Owen Milton were also part of the church. These men and their wives contributed significantly to the church over this period. Nigel became an elder, and Andrew the interim moderator. Peter took responsibility for the midweek prayer meeting, whilst Paul and Owen joined the others in preaching regularly on a Sunday.
On 6th May 2007, Mark Barnes (pictured below, with his wife, Shâron) was invited to preach in Bethel. Originally from Wrexham, at that time Mark was serving as assistant to the pastor in St. Mellons Baptist Church in Cardiff. Bethel expressed an interest in Mark preaching again, and because another church was considering calling him, this was scheduled as soon as possible. Over a three week period Mark preached six times, and had three meetings with the church or the elders.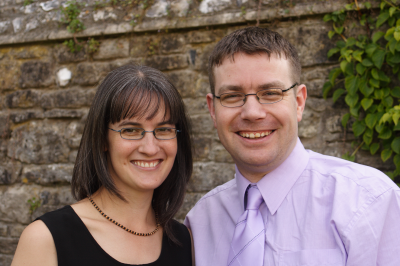 On 14th June, just five and a half weeks after that initial Sunday, Bethel invited Mark to become their minister. God's providence seemed clear, and five days later he readily accepted, and was ordained and inducted on 22nd September. But three weeks before the induction, there was an extra privilege: to preach at the baptismal service of two of Bethel's young people, Elizabeth Clifford and Elizabeth Chambers. As the long period without a minister came to an end, the service was a glorious reminder that "neither he who plants is anything, nor he who waters, but God who gives the increase" (1 Corinthians 3:7).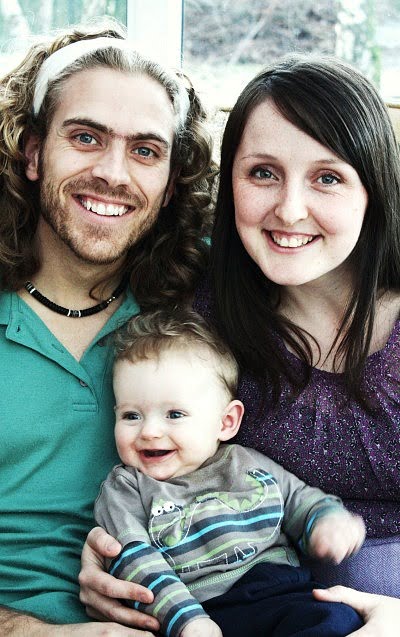 In 2009 and 2010, evangelistic campaigns (now called missions), similar to those of Trinity days were wholeheartedly supported by the entire church, and proved fruitful. In May 2009, Anna Ayling (née Clifford) returned to the church from London with her husband Nathanael. In July baby Ethan was born and in February 2010 the three of them (right) left the UK bound for Japan to begin language study to enable them to work amongst students. Nathanael and Anna are members at Bethel, and our support of them is in partnership with OMF, and Grace Church Hackney. The photograph on the front cover was taken at their last Sunday in Bethel.
In September 2010, the church took on their first evangelist. Paul Daniel was born in India but spent most of his life in South Wales. In 2009‑10 he had worked for the church on a voluntary basis as part of his training at WEST (Wales Evangelical School of Theology) in Bridgend.
So as we look back at the last 40 years, and at the last 95 years, the testimony of this little church is of the grace of God in the gospel of Jesus Christ. Bethel and Trinity will probably never be considered important enough to feature in a history of Clydach written by others, nor even in a history of the church. But to those of us who have had the privilege of calling Bethel or Trinity our home, what God has done here is extraordinary.
When Rev. John Mainwaring retired from ministering at Bethel in 2000, he wrote a hymn to mark the occasion. It captures the central pillars of Bethel and Trinity over all these years: the wonder of grace, the glory of the gospel, and the keeping power of God. With it, the story of Bethel's past is told; and its future placed into the sovereign arms of a gracious and good God.
By grace this Ebenezer,
By grace these many years,
Such grace was all-sufficient
Though joys were mixed with tears;
By grace our prayers ascended,
By grace the prayers were heard,
And converts gazed in wonder
At grace so undeserved.
The Cross, the theme of preaching,
The Cross, the theme of song,
God's ransom for the ruined,
God's righteousness for wrong;
The crucified Redeemer
Atoning for the lost,
And justifying freely
At infinite a cost.
By faith we face the future,
Uncertain yet secure,
Our Shepherd is the Almighty
Whose promises are sure;
From foes He will protect us,
The wolves He'll keep at bay,
And goodness and great mercy
Shall follow us all the way.