About Us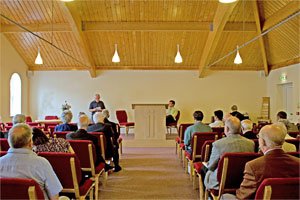 Bethel Evangelical Church are a group of around 40 Christians who meet together in Clydach, near Swansea. We come from a variety of different backgrounds and walks of life, but we all share the same faith in the Lord Jesus Christ. We meet in a new church building on Heol-y-nant, just behind Clydach High Street.
As well as our Sunday services, we run a Sunday School, children and young people's meetings, and a midweek meeting for ladies. At all of our meetings we aim to teach the good news about Jesus Christ that has changed our lives. We're a small, friendly church, and we're sure you'd find a warm welcome with us.
We support a number of missionaries and other causes, and enjoy fellowship with many other churches through AECW (Associating Evangelical Churches in Wales). Bethel has been established for more than twenty-five years, and has its roots in Trinity Presbyterian Church, which has now closed. The church is led by three elders, including the minister Rev. Mark Barnes. Mark has been the pastor of Bethel since September 2007.