Anna – Overcoming my biggest fear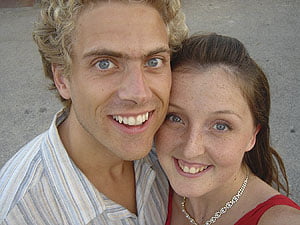 Anna never thought life would turn out like this. In fact, she really hoped it wouldn't.
Anna was brought up in a Christian family. "I always knew Jesus had done the unthinkably difficult thing of being punished by God the Father so that I could be forgiven by him if I just trusted him. I knew this was good news, the bit I didn't like was being 100% committed to Jesus.
"I desperately wanted all the good things being a Christian has to offer; forgiveness, heaven, etc. but I didn't want to do anything that was too difficult or uncomfortable for me. I just wanted to be happy."
"I didn't want to do anything that was too difficult… I just wanted to be happy."
Anna knew that being a Christian didn't mean having an easy life. "I knew that some people who were Christians went to other countries to tell people they can have a right relationship with God because Jesus died on the cross to forgive them." Anna actually thought this was a great idea, she laughs, "A great idea for someone else, but not for me! Some people love the idea of travelling, but not me. I'm a home-bird. Studying at Bible college in London seemed like the other end of the world."
We all have different fears but for Anna, her biggest fear was being far from her family. Anna has a house in Clydach, with her husband, Nathanael. Her grandparents are round the corner and her parents live a ten-minute walk away. So, what's the problem? In eight months, Anna, Nathanael and their new baby (they're expecting their first in July) will leave that home and move to Japan, long-term. But why? "We want to tell Japanese people about Jesus so that they can have the opportunity to know the true and living God."
So, how has Anna overcome her greatest fear? "God has taught me a lot about trusting him for the future. I used to try to control my own life and future — but never very successfully. Even though the thought of being so far from my family — especially with my parents' first grandchild — is still scary for me, I now realise that the scarier thing is trying to control things myself rather than trusting God. He is in control anyway, so trusting him and praying to him about my fears and concerns is a much happier place to be."
Anna has a new home to set up, a new culture to understand, a new language to learn, a new baby to look after, and no family nearby. With so many unknowns ahead of her, is she really in a happier place? "It's funny how things turn out, isn't it? My biggest fear is coming true and yet I am happier than I ever dreamed I would be. I know I can trust God with all my fears; knowing and trusting him is the happiest place to be. He made us as people who will only ever be truly satisfied and happy when we find our satisfaction and happiness in him."