We set our standards, but when you get there, it doesn't fulfil what you think it will.
With more than fifty caps, Garin Jenkins is Wales' most capped hooker. A former captain of Swansea, he's played in three World Cups, and won both league and cup honours with his club — not to mention scoring a try in Swansea's famous 21‑6 rout of Australia in 1992. But in this special interview he explains that his biggest challenges have come not on, but off the field.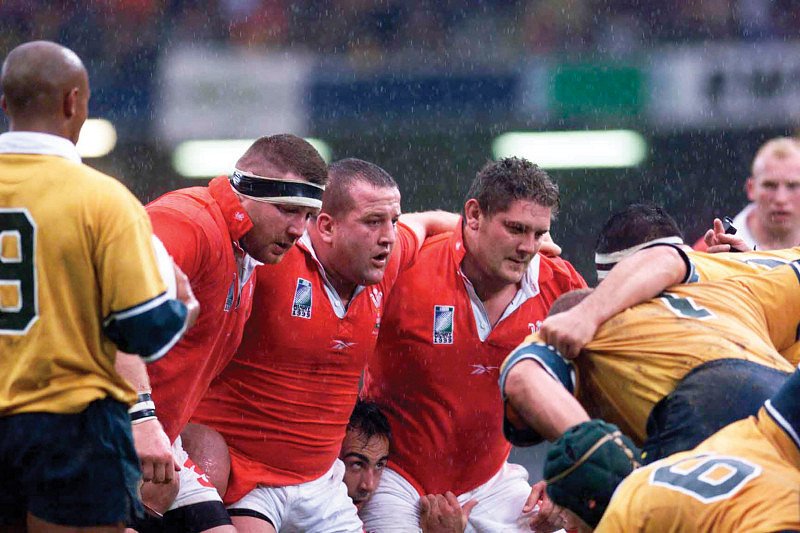 "Throughout my schooldays I had a passion for rugby. But there was a time in school when I was pretty much a non-attender, I was pretty wild. I think I succumbed to peer pressure; I was out to impress.
"I had always been brought up to go to Sunday School. But I turned away and really rebelled as a thirteen-year-old, and went off the rails. I got thrown out of school, and got sent away to a 'home for naughty boys', shall we say. It was a big wake-up call. I really didn't want to be there.
Dark times
"It was a dark time and I didn't think I would ever have come back from where I was going. I remember thinking I'm going down the river here at a rate of knots and I can't reach the bank. But I remembered the little lessons I learned in Sunday School, so I was also praying to God for help. Looking back, if it wasn't for the love that God had for me through my parents, I don't think I would have made it through.
"After four or five months I was back in Ynysybwl, and later got a job in the colliery. I enjoyed playing for Ynysybwl youth and working. But I always needed discipline. I'd served a lot of rugby bans, for six or ten weeks. It looked at one point that I would not fulfil my rugby dream.
"Then there was a lot of pit closures, and in 1988 I was made redundant. Rugby was a bit 'what-if?' at the time, because it wasn't professional, but there was an opportunity to go to New Zealand to play. So I went and things really started to take off. After I came back my rugby career started to spiral upwards.
"I always remember I was digging a trench in Pontypridd Park when I had the call to say I'd been selected for Wales. I can tell you I stepped out of that trench pretty quick!
Dreams fulfilled
"The first cap was great, but I didn't just want the first cap. It's strange, we set our standards, but when you actually get there, it doesn't fulfil what you think it will. When I was a kid I thought, 'When I get to play for Wales I'll have a big car and holidays', and yes they were nice — but they still don't fill the void.
"Another dark moment came when I was captain of Swansea. We were playing at Cardiff — it was the day that Gwyn Jones broke his neck. It was live on S4C and at the end of the game I jumped over the barriers into the crowd. Everybody thought I was doing an Eric Cantona, but my father had had a heart attack on the terraces whilst I was playing.
"People who will have watched me playing will think, 'Well you weren't much of a Christian'. But I really believe that the early days, going to Sunday School and the little teachings on a Beach Mission in Newquay really stuck with me during all that time, even if it's only come to prominence in the last couple of years.
"It was always 'Next week, I'm really going to start going to church regularly'. I didn't really want to come out and make a stand for God. I kept telling myself that I wasn't ready yet. But even through those times the message that I heard on the Beach Mission in Newquay was always near me.
"They told a story in the Bible about Lazarus and the rich man. If I'm honest it always frightened me as a twelve-year-old. The rich man had everything in the world but when he died he wasn't in the place where we as Christians trust we are going. But Lazarus had nothing in life, he was picking up the scraps from the dogs. But when his life was finished, he ended up in a place where there was no pain, for eternity. And it's that story that really spurred me on my way.
Not in charge
"I always used to think that there was lots of time. There's always next week, but we've got to realise that we're not in charge. Not long ago I had a secondary tumour in my neck. It was very challenging, and again I turned to God big time in prayer. I made a commitment to God because of what he's done for me. I feel very blessed to experience the warmth and love from God that's been there all along but has come to be very special.
"I'm very thankful that things are working out good. But this time there's no 'Aah great, God's helped, now I'm off again'. Now I'm committed to him.
"Some people have said, 'You've had too many bumps on the head so you've become a Christian!'. But if when I was playing I'd been where I am now — as a Christian — I think I'd have been a far more successful rugby player. I would have been inwardly stronger, and I'd have had more discipline at times. And I think now I have more integrity that doesn't take away from my competitiveness. Unfortunately I'm forty-two and about five stone overweight so I'll never be able to put that to the test as a player! But I'm sure there'll be many challenging opportunities to come off the field.
"When I look back I know that God has been with me all my life. People will say, 'You've worked hard, you've got good determination', but I know that God has really helped me and blessed me with all the positive things in my life. I feel so blessed that God has shown me so much grace over the years."