I used to go to church on a Sunday, but most of my life was spent thinking about sport. Then, one Sunday night, I was rooted to the spot. For the first time in my life, my mind wasn't wandering; I wanted to go to heaven.
Dan Walker is best known as the face of BBC's Football Focus. He spends his working life watching the great teams, and mixing with some of soccer's superstars. But football is not the best thing in Dan's life — far from it. In fact, on a Sunday Dan says he would rather go to church than to the big game. And he's got the evidence to back up his claim — he's turned down opportunities to be at the Wimbledon Men's Final, and the last day of the Open Golf Championship. Here's Dan's story.
To say I enjoyed my sport would be a slight understatement. As a boy, if I wasn't playing sport with friends, I was practising in the back garden. I found that my dad's vegetable patch was particularly useful. The runner bean rods provided an almost perfect defensive wall, and at full height, the curly kale could almost be a tennis net.
I used to go to church on a Sunday, but most of my life was spent thinking about sport. I knew the right answers to all the Bible questions, I could reel off the names of the twelve disciples (not sure I can remember them all now), but they meant nothing to me.
Football was my real passion. My father was from Enfield in North London and by a process of osmosis I inherited his passion for Tottenham Hotspur FC as a young lad. So Spurs midfielder Glenn Hoddle was something of a hero of mine. My admiration for Hoddle was so high that I spent the entire summer of 1987 in my Spurs kit in our back garden, smashing a football into my dad's shed. I asked my parents to call me Glenn for a while and, if it wasn't for the fact that my mum cut my hair, I would have cultivated a Hoddle-like mullet!
While I was awake I was thinking about playing sport, and all of my dreams were filled with scoring goals, sinking putts, hitting sixes and winning gold medals. So when I was in church I wouldn't sit still, my mind would wander and I would even scratch things on the walls. Once I even signed it 'Dan Walker'. Looking back, that probably wasn't the wisest move. My dad hardly needed to call in the CSI team to work out the perpetrator. I was made to polish the whole wall as punishment. But that was me — paying very little attention to church services, and desperate for them to finish.
A life-changing day
Then, one Sunday night in 1989, a man called Gerald Jackson walked into my life and switched on the lights. Gerald wasn't the most dynamic speaker in the world, but he was warm and friendly. He preached about "weeping and gnashing of teeth", the reality of hell for the unbeliever, and the importance of knowing Jesus Christ as your personal Saviour. I was rooted to the spot. For the first time in my life, my mind wasn't wandering; I had no interest in scratching anything on the wall and I wasn't day-dreaming about scoring a winning goal in the cup final. As Gerald spoke, I remember feeling the depth of my sin. I knew that I was offending God with the way I was acting and the life I was living, and the prospect of going to hell terrified me. I wanted to go to heaven — I wanted to be in the presence of God thanks to the saving love of his Son, the Lord Jesus Christ.
After the service, I was a bit of a mess. My mind was racing and I had plenty to think about. For once, I didn't go round to the back of church to throw apples at the gravestones; I couldn't stop thinking about what Mr Jackson had said. I wasn't right with God and I really knew that I had to be. I went home and that night talked for what seemed like hours with my parents. I wanted to be a Christian but I just didn't know what to do. I have no recollection of what my mum and dad said to me, but I remember that I went to bed that night a different person. I knew that my sins had been forgiven.
Finding my feet
I won't bore you here with further details of my school life. Suffice to say that despite spending a lot of time outside the Headmaster's office for fooling around, I loved every minute of school. I got good GCSEs and A levels and, after much deliberation got a place to study history at the University of Sheffield. This was to be a totally new experience. For the first time in my life, I was away from home, and my faith was going to come under real pressure and scrutiny. I'll be honest and tell you that, for the first year of university, I didn't live the Christian life as I should have done. I made some fantastic friends but did some things that I still regret. When I look back now, I wonder what I could have done for God in that year if I'd put my heart into it. I am still very thankful for one guy who lived in the room next door to mine in the student hall. I tried to avoid him most of the time because I knew he would disapprove of some of the things I was doing, but he was a good friend and, even though he probably thought I was a bit of an idiot and not a very good Christian, he was a big influence on me.
This might seem strange, but I reckon that, if I'd met myself that year, I would have found myself quite annoying. I was playing at being a Christian really. The knowledge was there but it was having little effect on me. I was legalistic about the Bible and always ready to tell other people what to do, but I was a long way away from walking the right path myself. The truth was that my Bible spent most of that year gathering dust on my bedside table. I suppose I was like a modern-day Pharisee: the life I was actually living was a massive hypocrisy. Thankfully things did change. I met some really good people at the church and, slowly I grew as a Christian and the preaching of God's word started to have more of an influence on me.
Another thing that was taking up quite a bit of my time was university radio. Every Tuesday and Thursday my housemate Ed and I ripped up the airwaves. Some of our material was great, but we spend most of the time laughing at our own jokes, leaving on the microphones or forgetting to play the music! Despite the distinct lack of award-winning material, the experience gave me a taste of a potential career.
One Saturday afternoon Hallam FM, the local radio station announced they were running a football commentary competition. The winner would get the chance to work on the Saturday afternoon football show and cover a match. This was big stuff. I dug out my dad's old tape machine, recorded that weekend's Match of the Day and selected the goal I was going to commentate on. It was an Alan Shearer thunderbolt for Newcastle against Aston Villa. My first attempt was rubbish – it sounded as if I had called him "Adam Shearer". The second attempt was equally rubbish. I struggled to get my words out and, when the crucial moment came, I sounded like an eight year old girl. But eventually I managed to hit the spot. Within an hour the tape was on its way to Sheffield, and a month later the radio station called: I had won!
The best-laid plans…
Despite my success, I still didn't think that broadcasting was going to be a viable career for me. I had always fancied teaching, but I was turned down for the PGCE course in Sheffield for being "too immature". I had always thought that was a prerequisite for teaching! I still remember walking home up the very steep hill after that interview. For a few hours, I felt as if my little world was collapsing.
If Sheffield had offered me a place that day, I would have accepted it on the spot and life would have been very different from that point onwards. Isn't it strange how God works sometimes? I was distraught. I thought I had my life planned out, and all of a sudden things were going wobbly-bob. I really didn't know what to do.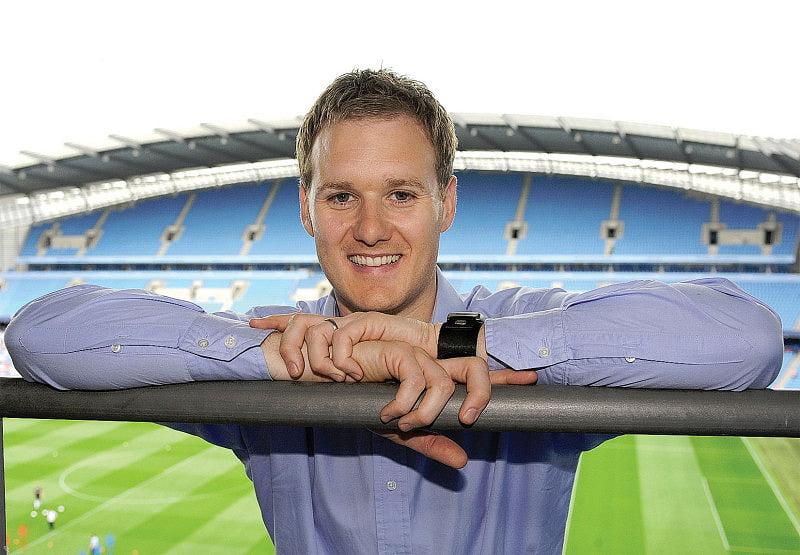 After much deliberation, prayer and lengthy conversions with my fiancée Sarah, I decided that this was perhaps the time to have a go at this broadcasting lark. If I was "too immature" to be a teacher, then I'd be perfect for the radio or TV.
I went on a postgraduate journalism course in Sheffield and got an interview with Key 103 in Manchester. Soon I was covering three to four matches a week, interviewing sporting superstars and the occasional popstar or Hollywood hero. I loved the work but felt that I needed a new challenge.
Over the course of about eighteen months I had six or seven interviews for a new job. Each interview would follow a pattern: I would be asked about my attitude and enthusiasm, the awards I had won at Key 103, and my plans for the future. Then the Sunday issue came up and things went downhill. At each interview I explained that I wouldn't work on a Sunday. I was convinced that it was the right thing to honour God and follow his commandments, but I was also helping myself by having a day of rest and showing others that there was something more important than football or work in my life. My Saviour, Jesus Christ, deserves the very best of my time and energy. And observing the Lord's Day is a great privilege and brings with it loads of blessings. Some of the greatest of God's promises — for example, about knowing the glory of God, enjoying him and receiving blessing from him — go hand in hand with the idea of the Sabbath. Some of the interviewers thought I was stupid, some felt sorry for me and some said they wished me the best for the future but that there was no way they could employ me.
But at ITV Granada in 2004 I went into the interview room determined not to have the same conversation about Sundays. I just went for it and told the panel that I understood that Sunday could be an issue, but if they gave me a chance – even a three-month contract – I would prove I was better than anyone else they could employ; and if I wasn't, or if Sunday's proved to be a problem, they could just get rid of me. I think they liked my feisty new approach. I was offered the job and six months later, when my boss at ITV left for the BBC, I went with her. I had always thought that a job at the BBC would be beyond my reach, but God provided a way in there as well.
After eighteen months in the North-West we were on the move again — still at the BBC, but now in London. My not working on Sundays wasn't a problem for my new boss. I think he thought it would hinder my progress, but he was happy to help where he could. I was determined to keep trusting in God. I ended up presenting and reporting on things like Six Nations rugby, the Grand National horse racing and The Open Golf Championship, and covering football for Final Score, Match of the Day and Football Focus.
It was while I was at The Open that I saw I had two missed calls from the head of television sport at the BBC. I thought he wanted to tell me off for something I had either said or done on the golf course, so I didn't ring him back until 8.15 that night. I can't remember exactly how the conversation went, but I was told that Ray Stubbs was leaving and there was going to be a bit of a shake-up in football.
I thought I was going to be asked to cover some shows while they sorted things out, so when I was offered the Focus gig I think my voice went a little high-pitched and I might have squealed a touch. After I'd hung up I kicked a pebble in delight and called my wife. The bad news was the pebble took a nasty ricochet right and left a little nick on a BMW! The next two weeks were pretty bonkers… press conferences, interviews and endless meetings in addition to trying to look after daughter number two, who had been born just a month earlier. But none of that in any way reduced my excitement.
My Saturdays as a young boy were based around Grandstand and Focus. I used to annoy my mother by commentating on old ladies in the frozen food aisle when I was dragged to the supermarket after school. I even wrote a letter to Des Lynam at the age of 11 asking him how I could get his job.
A guiding hand
But I did always think the Football Focus job was one I'd never get because of my insistence of not working on a Sunday, because it's so high-profile. To be given it means even more for me because I've made my stand but still been handed this opportunity. I've grown up watching Football Focus, so now to be presenting the show really is a dream come true.
A wise Christian once told me that I should never forget that God has put me in a great position to talk to lots of people about my faith in Jesus Christ. It seems weird but during interviews I've talked to David Beckham about going to church and Noel Gallagher has asked me why I don't swear.
When I first decided to take a stand about Sundays, I wasn't sure how things would pan out. I wasn't sure if I could maintain my Christian witness. I wasn't sure I was in the right profession. Now, looking back, I can see that God has clearly guided my steps over the past few years.
Everything I have comes from God. I enjoy working hard and want to do my best, but I know that my current position is down to God's goodness and his plan for my life. Years ago, before I worked in television, I was told that I would never get anywhere with "an attitude like that". I've not yet bumped into that guy since, but hopefully, one day I will see him again and be able to testify of God's gracious provision for his people!